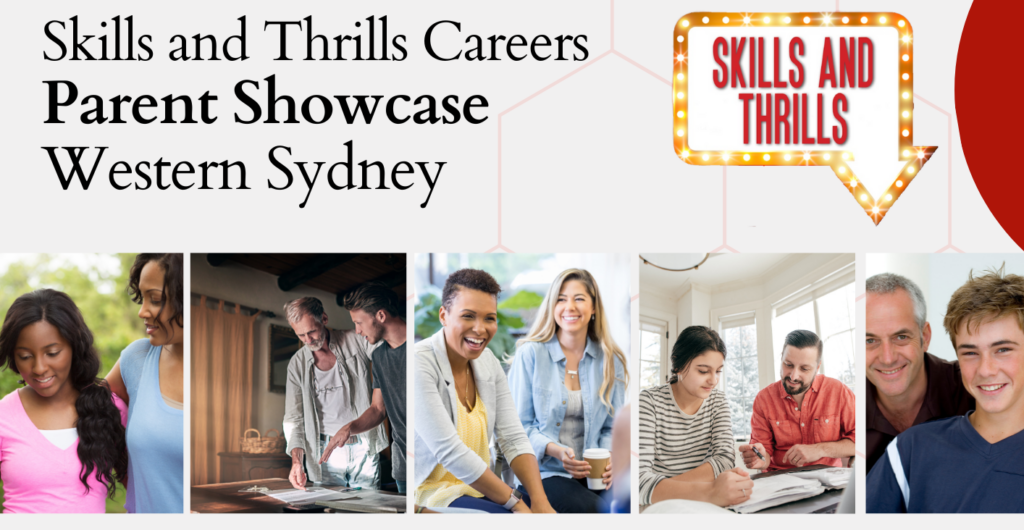 Wednesday 10 May 6pm
A free Showcase presented in partnership with Training Services NSW about Industry and Global Trends, Jobs of the future, Vocational Education and Training, Apprenticeships, Traineeships- both School Based and Post School to support parents in providing advice to their children on careers and study options.
Ticket Registration essential: GET TICKETS
About this event
Join us for an evening of discussions with experts and advisers, to learn more about the jobs of the future and help your child successfully navigate their way through VET career pathways in high growth industries
The Skills and Thrills Parents Edition Careers Showcase is helping parents to assist their children in making informed decisions surrounding post school pathways. The showcases are presented in partnership with Training Service NSW within the Department of Education
The Skills and Thrills Careers Showcase is an engaging, informative and entertaining showcase, created to highlight vocational education and training (VET) and the success stories that emanate from VET pathways. The Parents Edition Careers Showcase will help parents better understand vocational pathways, including apprenticeships, traineeships and school-based apprenticeships and training and give parents the knowledge they need, to help their children make informed career choices post high school.
Through the showcase, parents and students will learn about the following;
Apprenticeships and Traineeships
TAFE/ Private Training Providers
Funding options available (Smart and Skilled)
Vocational Education and Training (VET) Options: School -delivered VET, SBATs and EVET
Where to find information
Who can assist/ resources available
Opportunity to speak with VET Ambassadors and SBAT officers
We encourage you to attend with your high school aged children. This presentation is most beneficial for parents of students in years 7-11.
Walk away with new insights on the job and career opportunities available  and get personal advice in the Q&A session at the end.
There will be speakers from industry and the NSW Training awards, a panel discussion with parents and industry representatives, entertainment and advisers on site to help with any enquiries.
Watch our Social Media for updates on speakers and industries that will be joining us for the evening.
https://events.humanitix.com/skillsandthrillsshowparents