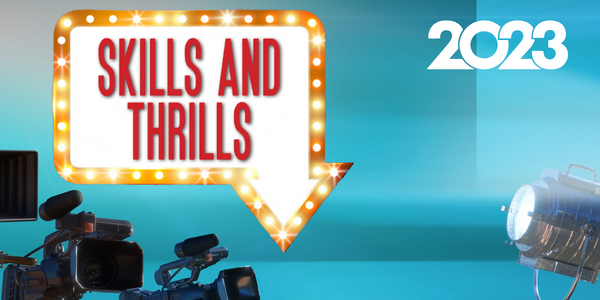 The Skills and Thrills Career Showcase is an engaging presentation taking careers advice out of the classroom and onto the screen, through an action-packed session of video, animation, music, personal ambassador stories, industry statistics and host engagement.
The Skills and Thrills Student Showcases are now completed for 2023.
BACKGROUND:
The Skills and Thrills Student Showcase is a one hour  live show held in regions throughout NSW. The showcase is available (FREE) to all high school students across NSW for a limited time annually.
In 2023 the showcase was presented in term 2 and term 3  and covered the following information:
Industry trends for the next 5-15 years
Industry trends and the impact of Covid-19
Apprenticeships
Traineeships
School Based Apprenticeships and Traineeships (SBATs)
Opportunities in the vocational education and training sector (VET)
How to connect your passion to a career pathways from vocational training to university education
There was a Q&A session with guest speakers, including NSW Training Awards Ambassadors, local industry representatives, SBAT Officers and Training Services/ Department of Industry Representatives/RIEP Officers.
If you would like to know about a 2024 program, please contact info@skillsone.com.au. Until the next release you can find helpful information on post school pathways below-
USEFUL WEBSITES:
Student Handout:
We have created a handout for students – and their advisers- on industries and links for further information , to accompany the Skills and Thrills Showcase.
Access the handout 2023 student handout thrills and skills (2)
A huge thankyou to our NSW training award Ambassadors and industry experts who presented at our shows this year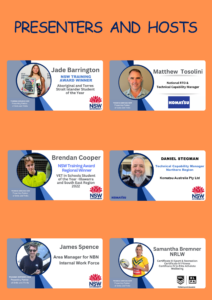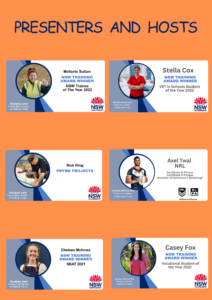 Click through to view some of the Interviews and videos from the Skills and Thrills speakers and Alumni during 2023
NSW Training Awards Ambassador- Chelsea McInnes on her SBAT hospitality and further studies
Mellanie Sutton on traineeships and further studies: Environmental Health Officer
Melanie Lymbery- Central Coast Group Training at the Skills and Thrills Central Coast Show
Interview with AEN Jason Sultana on Apprenticeship and Traineeship option through Group Training organisations
Interview with Nick Ring- Director of Pryme Projects- construction and building Apprenticeships
For more details on the showcases contact either  brian.wexham@skillsone.com.au or anne.cazar@skillsone.com.au.
The Skills and Thrills Students Showcase is supported by the NSW Government. through Training Service NSW.