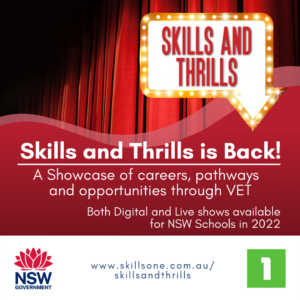 Fill in the form below to register your interest and subscribe to showcase updates.
The Skills and Thrills Showcase is returning this July for both LIVE and DIGITAL shows.
2022 showcases are FREE for NSW high schools students from Years 7-12 and will be running throughout Terms 3 & 4, commencing from July 18th. Shows will feature the latest information on:
School Based Apprenticeships and Traineeships (SBATs)
Industry trends for the next 5-15 years
Apprenticeships
Traineeships
Opportunities in the vocational education and training sector (VET)
Watch our latest showcase teaser video HERE.
LIVE SHOWS will be visiting schools and venues in the North Coast, Riverina, Western NSW, Central Coast and Illawarra.
The DIGITAL SHOWCASE will be available as a 35-minute video resource through the SkillsOne website.
For more details on live showcases contact brian.wexham@skillsone.com.au or kerrie.gale@skillsone.com.au.
For more details on digital showcases contact anne.cazar@skillsone.com.au.
The Skills & Thrills Showcase are supported by the NSW Government.